While in Tulum for our VR Mastered workshops (more on that later!), I caught sight of this little gem of an Airbnb rental: a Kombi Volkswagen Westfalia.
Perfect for cruising between beach destinations and camping by the sea and under the stars, this vintage 1976 cutie rents for about $100 a night (which is actually more expensive than many hotel rooms in Tulum!).
Seeing The Kombi reminded me of something important. And that's this: not all vacation rental guests are created equal. And not all have the same expectations for $100-a-night accommodations!
While a stay in a cramped sleeper van might sound like hell to those who crave comfy beds and A/C, for others, it's heaven-on-earth.
Reviews from Kombi renters don't talk about comfort, convenience, and flat screen TVs. Instead, their reviews are peppered with phrases like, "epic adventure," "fun to drive," "absolutely unforgettable days riding along the West Coast," "freedom," "liberating," "once-in-a-lifetime experience."
And The Kombi hosts know their target guest. In the listing, they don't try to pretend the van is a chic, comfortable place to stay—instead, they are matter-of-fact about what the van has to offer and keep the focus on the experiences: swimming in cenotes, traveling to off-the-beaten-path beaches, camping in the jungle…
Even their listing photos include the host couple themselves, enjoying the van and the stunning beachfront it's parked on—a great way to help potential guests see themselves in the scene.
So, who's up for an adventure?!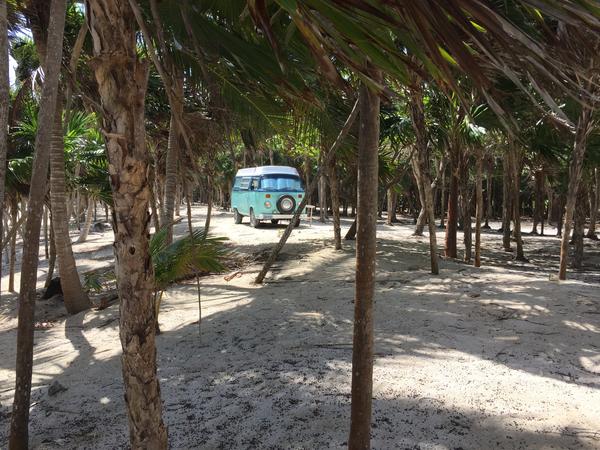 Source: https://thedistinguishedguest.com/blogs/the-distinguished-guest/vacation-rental-magic-volkswagen-bus-tulum-mexico