Clear turquoise water, soft white sand, a warm breeze blowing between the palm trees, incredible local food — Mexico's Riviera Maya is calling your name. Stretching from Cancun to Tulum, and past the famous Playa del Carmen in Quintana Roo, the Riviera Maya is an ideal section of Caribbean coast for your relaxing vacation.
With so many all-inclusive resorts and hotels that often look the same, it can be hard to find someplace unique when you come to Mexico. To go along with the unique restaurants in Playa del Carmen, we've compiled a list of the most unique places to stay in Mexico's Riviera Maya, so you can plan a trip unlike any other.
1. The Kombi Experience, Tulum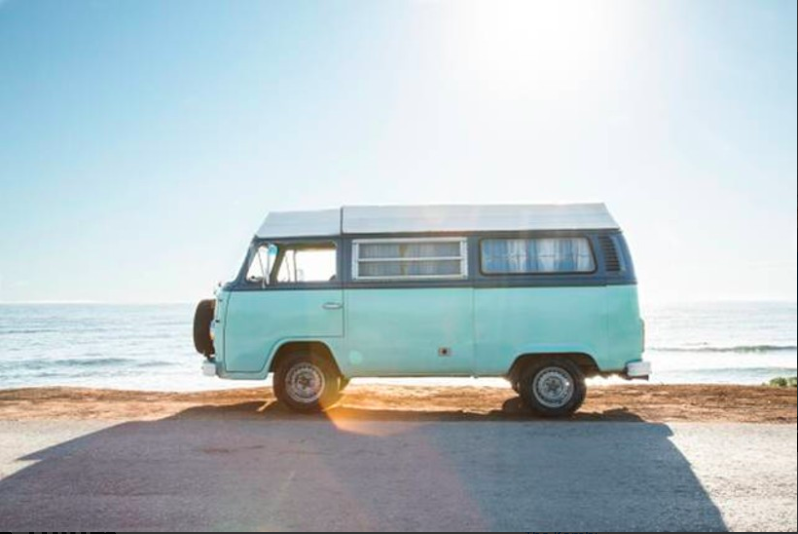 Can't decide on which Mexican beach town to stay in? Visit them all!
The Kombi Experience is certainly one of the most unique places to stay in Mexico's Riviera Maya. Instead of booking a resort, rent a Kombi VW van to sleep and travel around in! The van comes equipped with a bed, sheets, pillows, camping style cooking supplies including pots, pans, silverware, dishware, a GPS, and a full tank of gas.
Explore all of Quintana Roo at your own pace, and don't worry about choosing between beaches because now each one is easy to access. The hosts of the Kombi Experience recommend parking it at beach campsites so that you can have access to bathrooms, electricity, and internet when necessary. Bring your valid driver's license to rent out the van and bring it back with a full tank of gas.
2. Beachfront Tiny Living in Soliman Bay, Tulum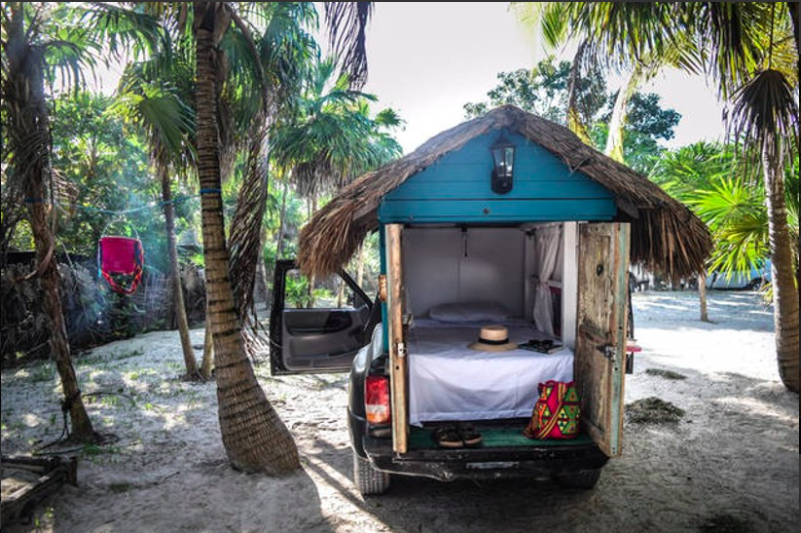 Tiny living is all the rage right now. If you want to try it, check out this tiny living situation in the bed of a pickup truck. Yep, you heard us right, a pickup truck. This is definitely one of the most unique places to stay in Mexico's Riviera Maya.
This doors on this beachfront tiny home open up and show that the space has room for just one bed and not much else. The house is described as being the ideal for those looking to connect with nature. It has a private bathroom, outdoor shower, outdoor grill for cooking, and is perfectly located just a few feet from Tulum's crystal clear waters. This is truly an experience fit for those looking for adventure. You can also borrow bikes to explore the town of Tulum, and there are chairs where you can sit and enjoy a beach bonfire or lounge around by the water's edge.
If you can't cook for yourself, check out the nearby restaurants. This "palapa" (a regional term for small hut) is located in one of the best parts of Tulum, Soliman Bay. The area is not only home to a quiet, secluded section of beach but also some of Tulum's best authentic eateries.
3. Beachfront Camping, Playa del Carmen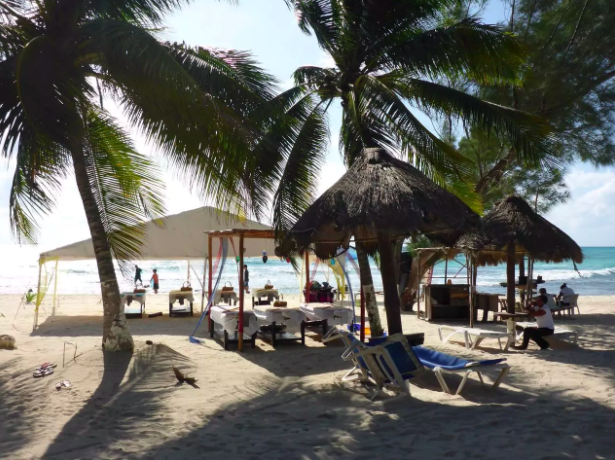 Sleep right on the sand at Lotus Beach in one of these beachfront tents. Your stay here lets you snooze under a canopy right by the water's edge. Relax to the sound of the waves gently lapping at the shore as you rest on a foam mattress with comfortable sheets and pillows.
Each tent can host two guests, but there's no hot water, electricity, or internet in them so be sure you have everything you need ready. The tents are located in between Le Reve Hotel and Sandos Caracol Eco Resort, on a safe and beautiful part of the beach.
The area around the tents is undeveloped and generally draws in fewer tourists than the other sections of beach, so you can enjoy an untouched slice of sand (rare for Playa del Carmen) while still being just a short walk away from the center of town.
Relax in the campsite's hammocks, cook your own dinner over a fire on the beach, or even book a therapeutic message. What could be better than your own private relaxing getaway on this beautiful beach?
4. Palapa Dolce Caribe, Playa del Carmen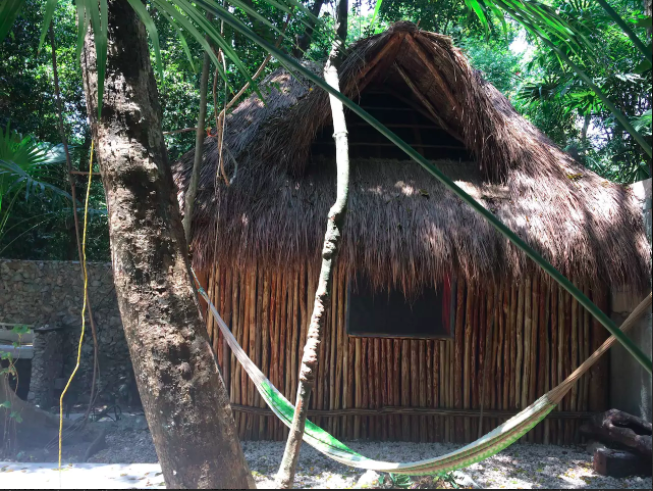 Sleeping under a tent not your thing? Get all the perks of camping on a beach without the actual camping. This wooden structure is one of the most unique places to stay in Mexico's Riviera Maya, and is described as being "immersed in nature" with an absolute Mexican jungle feel to it.
The small cabin opens to a single bed and a set of stairs leading to the loft, where you'll find the second bed. The home is easily accessible, so you can save more of your money instead of spending it on cab rides. Walk right up to Playa del Carmen's beautiful, clear water, or hang out in the hammocks outside your cabin. The home also has a clean bathroom, shower, and kitchen, and the host will even cook for you for an additional cost.
The rustic vibes of the cabin make it a truly unique experience in contrast to Playa del Carmen's high-end resorts and hotels.
5. Tulum Beachfront Camping, Playa las Palmas, Tulum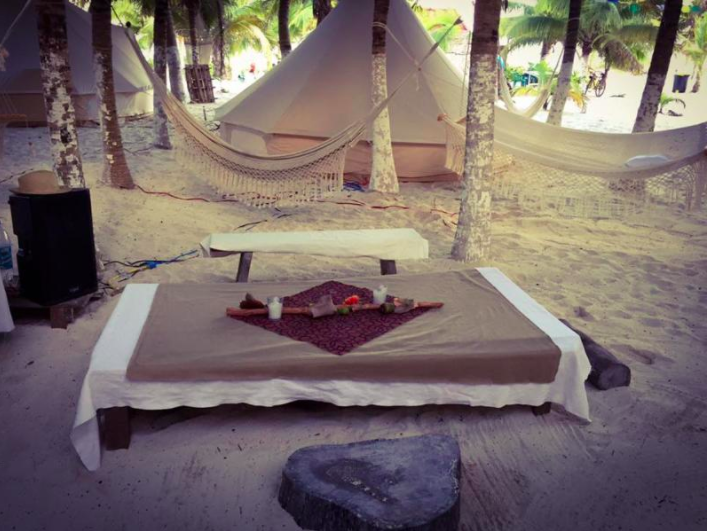 Check out more beach camping at the less crowded Tulum Beach.
The beachfront camping site allows you to sleep in large tents under the palm trees right on the shore.Take your choice of either two twin-sized beds or one queen sized bed, each fitting two guests. All the tents are outfitted with pillow-top mattresses, towels, and hammocks, and campsite has electricity so you can charge your electronics, cool down with a nice fan, or simply have light in the tent after dark.
Relax with fellow adventurers on the palm tree-lined beach and enjoy your own private section of Tulum's pristine sand!
6. Casa Tipo Hobbit, Playa del Carme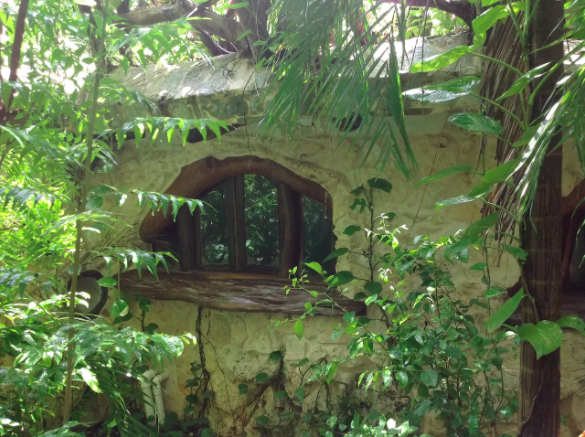 You'll be going on an adventure fit for Frodo Baggins and Samwise Gamgee in this house. The hobbit-style home is one of the most unique places to stay in Mexico's Riviera Maya, immersed in Playa del Carmen's jungle-like nature. Just fifteen minutes from the city center, this hobbit home gives you easy access to all the best the town has to offer, while still being near the beautiful, picturesque beaches to enjoy a sense of privacy and seclusion.
The hosts of the hobbit home are extremely welcoming and will gladly help you find what you need in Playa del Carmen. They've been known to take guests for walks to the natural swimming holes in the forests around the home, and even invite them to dinner! This off-the-beaten-path home is the perfect location for your unique vacation to Mexico's most famous beach.
For anyone planning a trip this beautiful country, a few days on the beaches are a must. This time, skip the all inclusive resorts and try out the most unique homes in Mexico's Riviera Maya!
PS Love what you see? For more on the caves, ruins, stunning beaches and beautiful lakes in the Riviera Maya, check out all of our Mexico content here!
Source: http://slightnorth.com/unique-places-to-stay-in-mexico/